Engrave Your Name in the Walk of Fame
The restoration of the 1935 Strand Theatre has brought to life a beloved historic landmark where patrons enjoy films – classic and new – and a range of live entertainment including musical theater, plays, concerts, and more! Over 1,000 people have already supported The Strand. You can too. Take a walk on The Strand's Walk of Fame and your sidewalk commemoration will be a long-standing reminder of how you saved a historic building to become a showcase of talent for the whole community to enjoy.
Take a walk on The Strand's Walk of Fame today with a tax deductible gift!
Walk of Fame
A representative of The Strand will be in contact with you shortly to discuss your brick paver's inscription.
Names and dates only please. (Maximum of 20 characters across. 3 lines for the 4×8 bricks and 6 lines for the 8×8 bricks.)
---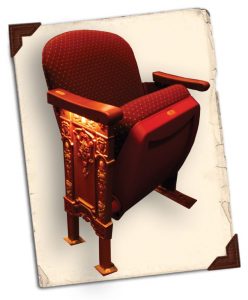 Grand For The Strand Club Seat Campaign
Join hundreds who have supported the Friends of The Strand, including Paul Newman and Joanne Woodward, by "taking a seat" at The Strand. When you join the exclusive Grand for The Strand Club for $1,000, your seat commemoration will be displayed on a plaque on a theatre seat. Commemorations range from listing your name to dedicating a seat in honor or in memory of your family or friends. The Friends of The Strand, Inc. is a 501(c)(3) organization and gifts are tax deductible. All funds generated are paid toward the loan which was used toward construction, furnishings, equipment, and start up operations for The Strand Theatre.
For a limited time, seat dedications in the balcony are a reduced $750 to commemorate.
Strand Club Seat Campaign
A member of The Strand staff will be in touch with you to get the details of your inscription request. (Maximum of 5 lines with 35 characters per line including spaces)